---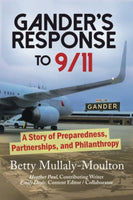 Gander's Response to 9/11 by Betty Mullaly-Moulton
The most recognizable Disaster and Emergency Management (DEM) response in Newfoundland and Labrador's (NL) history was the diverting and landing of international airline flights on September 11th, 2001 (9/11). Using the Town of Gander as a case study, this book goes behind the 9/11 response event experienced in Gander and provides a well-researched account of decades of key historical and international incidents and disaster events that has become part of Gander's history. The disaster response and recovery efforts from the Dr. Banting Air Crash (1941), Sabena Crash (1946), Czechoslovakia Crash (1967), and Arrow Air Crash (1985) as well as the Refugee Influx Crisis of the late 1980s to the early 1990's provided accumulative experiences, learnings, and developed partnerships that were critical to positioning the successful response efforts that is represented in passenger experiences during the 9/11 event.
There is already much written and discussed about the experiences of the passengers and crew in Gander during 9/11. What hasn't been shared are the details and stories of how the response efforts at the time were initiated, delivered, and engaged, and how they were able to be carried out in such an effective and efficient way. This book provides a detailed account of over half a century of lived experiences, learnings, and response preparation that is intended to inform any reader who wants to look beyond the "what" happened to understand "how" it came to happen as it did.
Gander's Response to 9/11: A Story of Preparedness, Partnerships, and Philanthropy focuses on the often-invisible work that was done by the professionals and citizens on the ground in Gander in responding to noted events, as they experienced them. It has been constructed to be informative to academic audiences (DEM education and studies), municipal leaders, well as those interested in NL/Canadian history and individuals who want to further their understandings and curiosities about the events that captured the world's attention some 20 years ago.